Dyer's Fuel Systems

Dyer's Machine Service Inc also offers complete carb kits for our supercharger kits.

These Quick Fuel Technology built 750 Holley Double Pump Carbs feature Lightweight Aluminum fuel Bowls, oversized .120" viton needle and seats, 6.5" power valves, Billet Metering Blocks, Billet Throttle Body, Wedge Floats for sidemount application, screw in air bleeds, Pro-Form Bodies, removable
teflon fuel bowl gaskets, and clear sight levels in the fuel bowls. These carbs have been custom built for use on blown applications. Each carb has been dyno tested to ensure quality before shipment.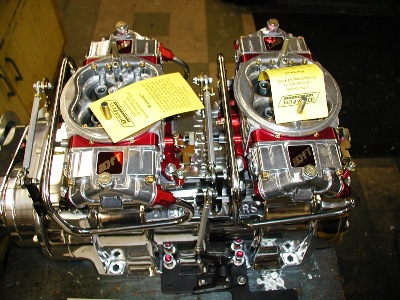 Also available is the fuel line and linkage kit shown for 750 DP Carbs. The fuel lines are stainless pre-bent lines with anodized fittings and comes with a connection line that joins the two carbs on the passengers side of the blower. Fittings are available in Black or Red Anodized.

The carb linkage consists of serrated heim joint parts to ensure accuracy while minimizing slippage. The mounting bar attaches to the driver's side of the blower and features a bell crank which attaches to the throttle cable or morse cable.

To top off the carb kit, Dyer's offers either an adjustable base Hilborn style scoop or two butterfly Shotgun Style Scoop. These polished scoops come with air filters and hold down studs.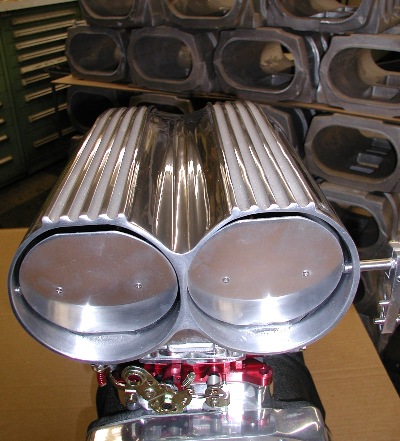 Dyer's can also provide an E85 Ethanol version of our gasoline carb. E85 is an inexpensive alternative to Methanol that provides significant power increases over gasoline. E85 carbs are identified by the green billet bases and green billet metering blocks.