Keep checking back on this page for updates

Dyer's Machine Service Inc is currently working on a number of new projects.

November '18: Updated pricing on Quick Fuel Carbs to reflect Holley's MAP Pricing. Also new pricing on the LS Intake from our vendor.

October '18: Pricing has been updated. Polishing for blowers and kits has gone up $100.00 to reflect added vendor costs.

May '18: Pricing has been updated. Chevy prices back to old pricing. Lowered price on 392 Hemi, raised price on LA Mopars and Pontiacs.

April '18: Dyer's now carries Edelbrock Blower Carb Packages. Modified pairs of Edelbrock 600s or 750s in silver finish for use with blower along with Fuel Lines and Progressive Linkage for that classic look.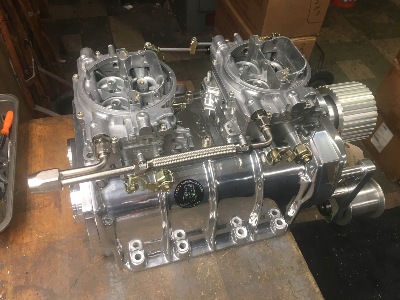 Dec '17: Pricing has been update. Chevy Kit prices lowered, 871 kits raised due to US casting cost price increase. We will also match Summit and Jegs pricing on Weiand Blower Kits (671s & 871s).

August '17: Our FaceBook Page has been added to our internet links page.

https://www.facebook.com/DyersBlowers/

June '17: Dyer's is pleased to announce the addition of a LS Chevy Blower Kit. Available as a 671 or 871 with same price as the BB Chevy Kits. Intakes are available for the LS1, LS3 or LS7 Style Port.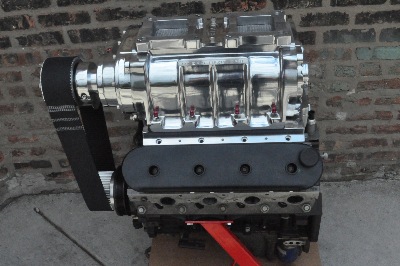 February '17: Dyer's has made the 871s a $250.00 upgrade from 671. All Dyer's Blowers feature 3 lobe GM designed rotors for the ultimate in strength under boost.

January '17: Carb Prices updated to comply with Holley/Quick Fuel MAP (Minimum Advertised Pricing).

October '16: Prices have been adjusted to account for new one piece cast intake for the 302W Ford and 351W Ford. We include the backfire valve and 1" riser plate with the kit. Also lowered blower pulley prices.

Below is a video of customer's 351W Ford with our polished 671 kit.

https://www.youtube.com/watch?v=6Rqla2AR3YM

August '16: Due to Holley acquiring Quick Fuel, we have adjusted carb pricing to reflect the mandated Minimum Advertised Pricing (MAP) for Carbs.

March '16: Pictures of the 50th Anniversary Kits. Black is SB Chevy Kit and Blue is a 440 Mopar.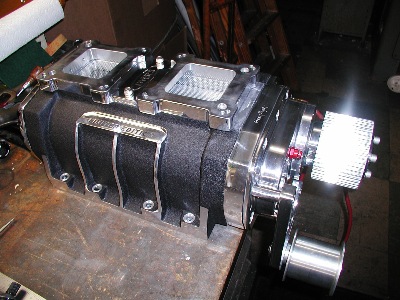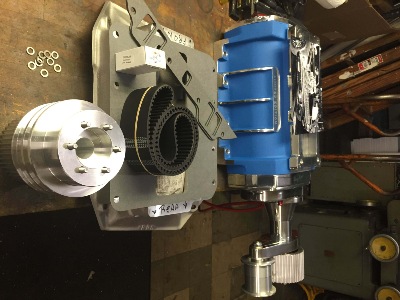 January '16: 50th Anniversary Blowers are now available. Finish choices are Polished, Black Wrinkle, Blue Wrinkle, Red Wrinkle. Blower come with polished Billet End Plates and wrinkles have a custom polish job on the case. Limit of 50 pc run and all will be hand signed and hand build by the legendary Gary Dyer himself.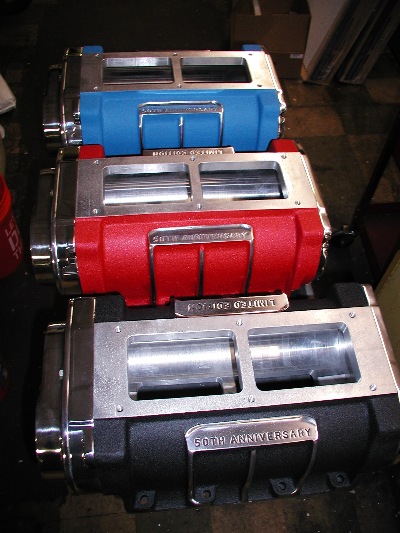 December '15: Prices updated for 2016. Changes are increase in polished kit prices and pricing on individual components of kit. This is to reflect increase in polishing costs, increase in blower core costs.

September '15: To commemorate Gary Dyer's Record Setting Funny Car Record in November 1965 piloting the Mr. Norm Grand Spaulding Dodge AWB Funny Car, Dyer's Blowers will manufacture a limited run of 50 Special 871 Blowers. Each will be engraved with Gary Dyer's Name and each will be hand signed on the case by Gary himself. In addition, Gary will hand build each one and provide a signed letter of authenticity and signed picture from that record setting day. They will come in Full Polished or Black, Red, Blue Wrinkle Powdercoated with polished End Plates and polished ribs. Currently in production and available for sale in January 2016.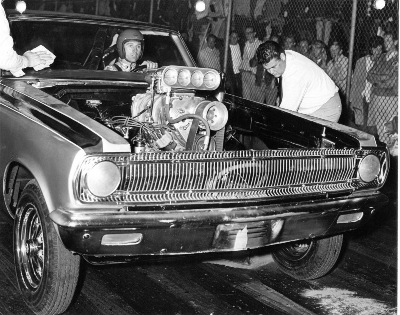 June '15: Dyer's Machine Service Inc has decided to start manufacturing a new billet case for our 871 superchargers. Plans are to make a nostalgia style and modern style cases and see what's most popular. Billet 8-71 blower housings will be 100% CNC machined here in the USA to assure quality. Expected completion is Early Spring '16. Stay tuned for more exciting details.

March '15: Pricing will remain unchanged for 2015. Price list current date updated.

April '14: Prices updated. Kit prices and blower prices have gone up due to blower core shortage as well as reflecting added costs of putting Billet front and rear bearing plates on our blowers.

March '14: Dyer's Machine Service Inc introduces a polished belt guard system. Fits all kit designed to work with 36 Tooth or smaller (1/2") or 57 Tooth or Smaller (8mm) upper pulleys. Check our price list for latest pricing.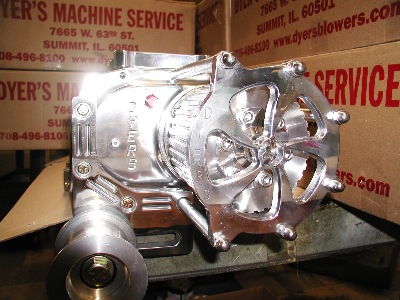 Jan '14 : Prices updated for 2014. Small changes to small parts and more products added for 4-71 and 6v-71 blowers.

Nov. '13: Dyer's Machine Service Inc has continued their sponsorship relation with Good Guys. At each Good Guys event, Dyer's Blowers gives away a $250.00 gift certificate towards the purchase of a complete supercharger kit. Check out www.good-guys.com for a car show in your area.

June '13 : Vintage Style V-Belt Blower Drives now available for SB Chevy, BB Chevy and 392 Hemi for $1395.00 + shipping (polished). Available in -16%, -6%, 1-1, +6%, +16%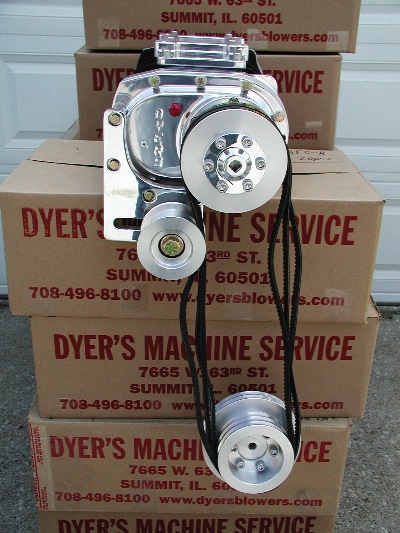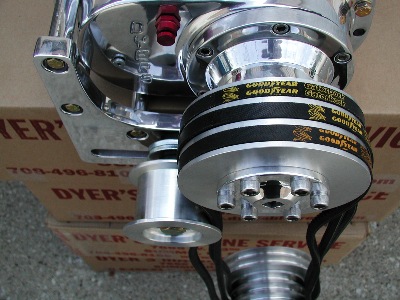 March '13: Dyer's is now making Billet Front and Rear Bearing Plates for our superchargers. All work is being done on our own CNC Machines. The Billets will be phased in during 2013 and will be standard on all blowers by the end of the year. We redesigned the rear bearing plate for a more nostalgia look.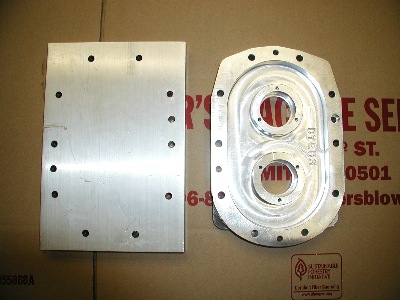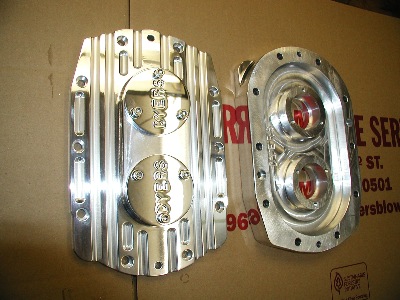 January '13 : Prices updated for 2013

November '12 : New 871 conversion kit for the Mercruiser / Merc 575sci Supercharger kits. Mercruiser has obsoleted the old Weiand 256 blowers on these engines and we have come up with a direct replacement kit for them utilizing the original Thermostat Housings, TBI & Electronics.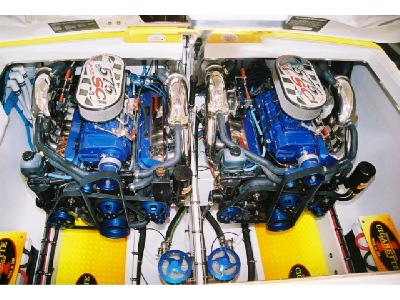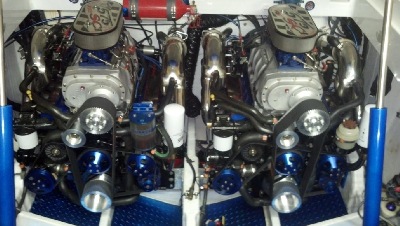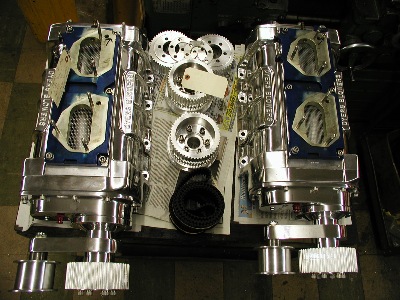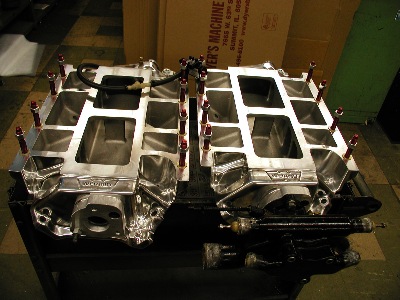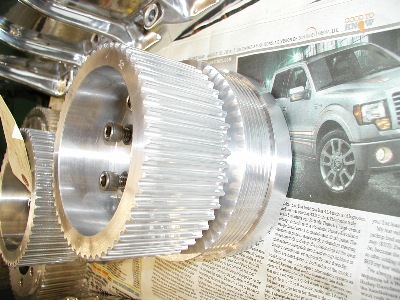 January '11: Prices updated for 2011. We also carry a two butterfly Shotgun Style Scoop in addition to the open front Hilborn Style Scoop. Check our latest price list for current prices.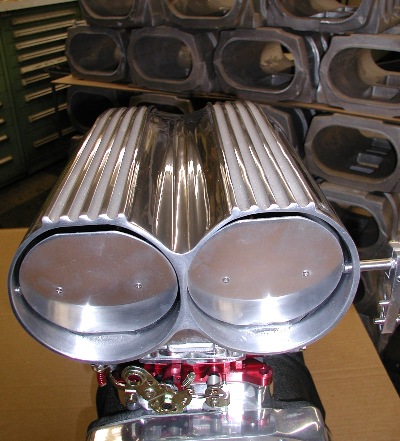 November '10: For all the Mopar Fans out there, here's a youtube link to a 440 Mopar Engine built by CNC-Motorsports in South Dakota. Stock Stroke with our 871 made 910 hp with 12 psi of boost. Check it out.

http://www.youtube.com/watch?v=J0xWrp5bX4c

August '10: The guys at Modern Muscle in Oswego, IL are finishing up the latest 871 project on a new style hemi. The car is a Chrysler 300. Here's the youtube video of it on the chassis dyno.

http://www.youtube.com/watch?v=NaqaNrlNthI

July '10: Dyer's Machine Service Inc has continued their sponsorship relation with Good Guys. At each Good Guys event, Dyer's Blowers gives away a $250.00 gift certificate towards the purchase of a complete supercharger kit. Check out www.good-guys.com for a car show in your area.

April '10: Drag Racing Artist David Carl Peters has released 4 of the 10 prints of the Grand Spaulding Dodge Cars that Gary drove from 1965-1974. Check out his website at www.dragracingartist.com to purchase one for your garage wall. Here's a sample of his extraordinary work.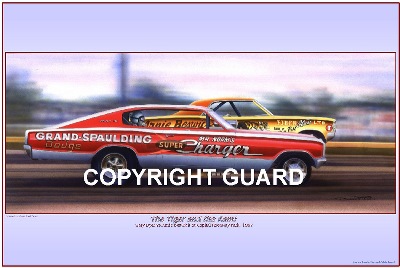 January '10: World of Wheels selected Gary Dyer to receive the Legends of Motorsports Lifetime Achievement Award at the March 6, 2010 Chicago World Of Wheels Show. The great folks at WOW presented Gary with a custom made leather jacket and crystal trophy for his lifetime dedication to motorsports.

December 2009 : Discovery Channel has started airing Motor City Motors.
The premier episode airs Monday December 28, 2009 @ 10:00 EST.
Here's the link to the Discovery Channel Page for Motor City Motors with the current week showtimes.
http://dsc.discovery.com/videos/motor-city-motors/?dtc=dsc-hp-drl-mc-inset

July 2009: Dyer's Machine Service Inc is working with Motor City Motors on an 871 Blown 460 Ford Project. Motor City Motors is a Detroit based show similar to the old Monster Garage but now produced by Original Productions, who brings you the hit "Deadliest Catch". The premier episode with our blower kit on a '26 Model T is scheduled to be on Discovery Channel in early 2010. Stay tuned to our website and www.origprod.com for more details. Below is a sneak preview of the car at Milan Dragstrip.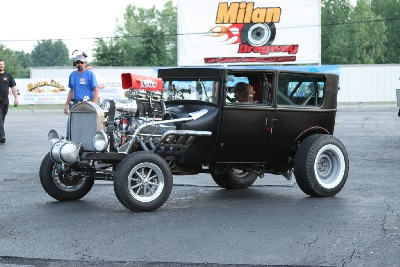 May 2009: Dyer's Machine Service Inc is working with Modern Muscle in Oswego, IL. to develop a 671 and 871 roots blower system for the newer 5.7 Hemi, 6.1 Hemi and Stroker Hemis. Contact Modern Muscle for pricing and availability of the 5.7 Hemi Blower Kit and 6.1 Hemi Roots Blower Kit.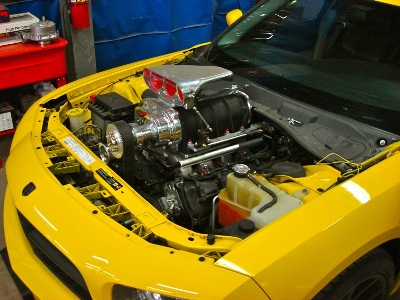 April 2009: Dyer's is working with a new PBS show called Muscle Car Workout on a Supercharged AMC Vehicle. Check out their website for more info.

January 2009: Dyer's Machine Service Inc has recently introduced a 471 blower kit for Small Block Chevy Engines. Kits are available in Non-Polished, Black Wrinkle and Polished.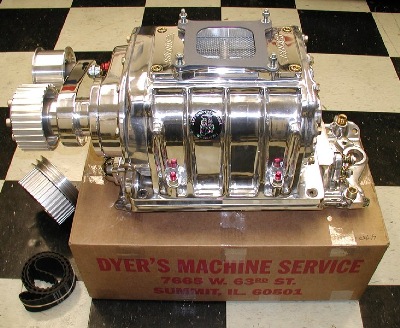 January 2008: Dyer's Machine Service Inc is pleased to announce that we have partnered with Quick Fuel Technology to build a Blower Carb version of their popular Q-750 Carb. That carb setup is available from Dyer's Blowers.

More info can be found in our fuel system page.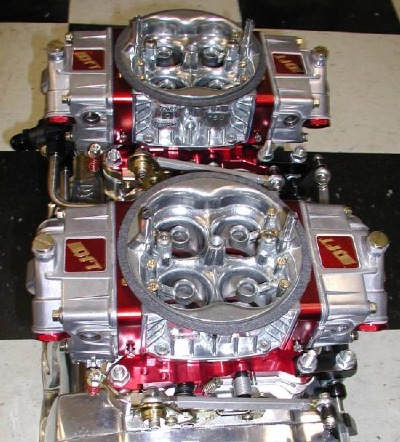 June 2008: Dyer's Machine Service Inc is now able to rebuild most Holley, B&M and Weiand roots blowers. This includes the 142, 144, 174, 177, 250 and 256 series blowers.